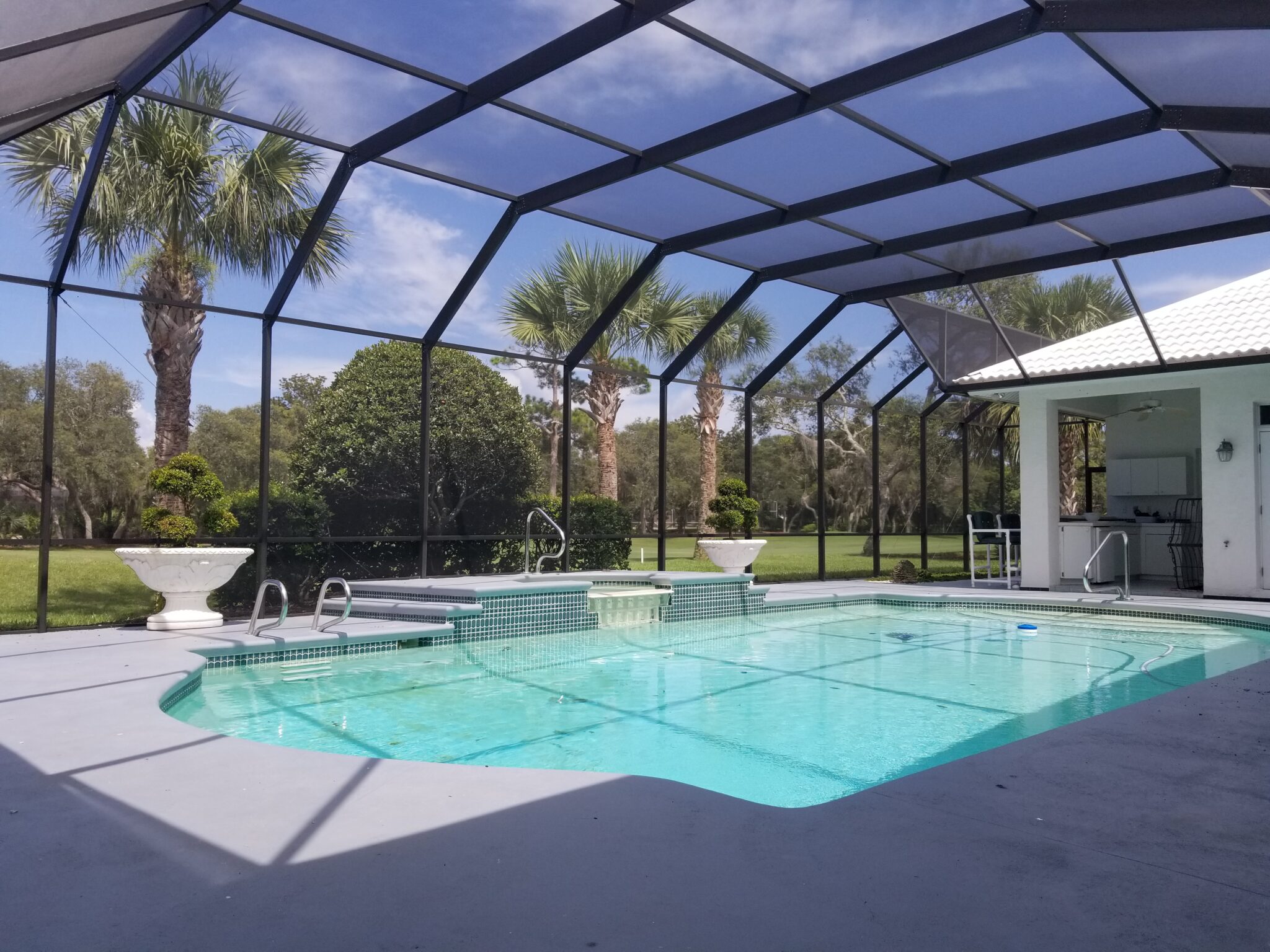 CUSTOM BUILD POOL ENCLOSURES AND SCREEN ROOMS
You name it, we can build it. All our enclosures are custom. When you contract with Taylor`s Aluminum & Screen, you get an enclosure build with owner on site. We only use high quality materials, 410 stainless steel screws and pro-tect tapcon system. Our crew pays attention to details and make sure the job site is secure and clean. Every enclosure we build is custom and engineered specifically for each customers. All members of the enclosure are calculated based on the size, roof style, type of screen and wind speed for the particular location.
Let us help you choose what style enclosure will best fit your back yard.
We repair all existing screen enclosures
We offer affordable prices with the choice of screen that meets your needs. We carry the standard 18/14 screen; 20/20 fine mesh, guaranteed to keep the mosquitoes and gnats out for good; tuff/pet polyester screen and solar screen. We only use Phifer brand. Phifer is the leading supplier of fiberglass screening materials used for pool and patio enclosures. Phifer standard 18X14, 20X20 No-See-um and solar screen products are designed specifically for pool cage applications where extra strength, small insect prevention, and reduction of wind blown debris is important.
Pool and Patio screening is woven from permanent glass yarn, coated with a protective vinyl to ensure lasting beauty, color and flexibility. 18×14 screen offers good ventilation and insect protection. No-Seeum fiberglass, or the 20×20 fine mesh, provides excellent protection from small insects. This is the recommended insect screen for homeowners who need protection from small insects, known as no-seeums. Solar screen is the ultimate in shading protection. It blocks up to 90 percent of the sun's heat and glare before it reaches the window or glass. In addition to providing excellent sun control properties, this mesh also serves as an insect screen and provides some privacy. Majority of screens offer excellent outward visibility and are available in Charcoal and Silver Gray colors.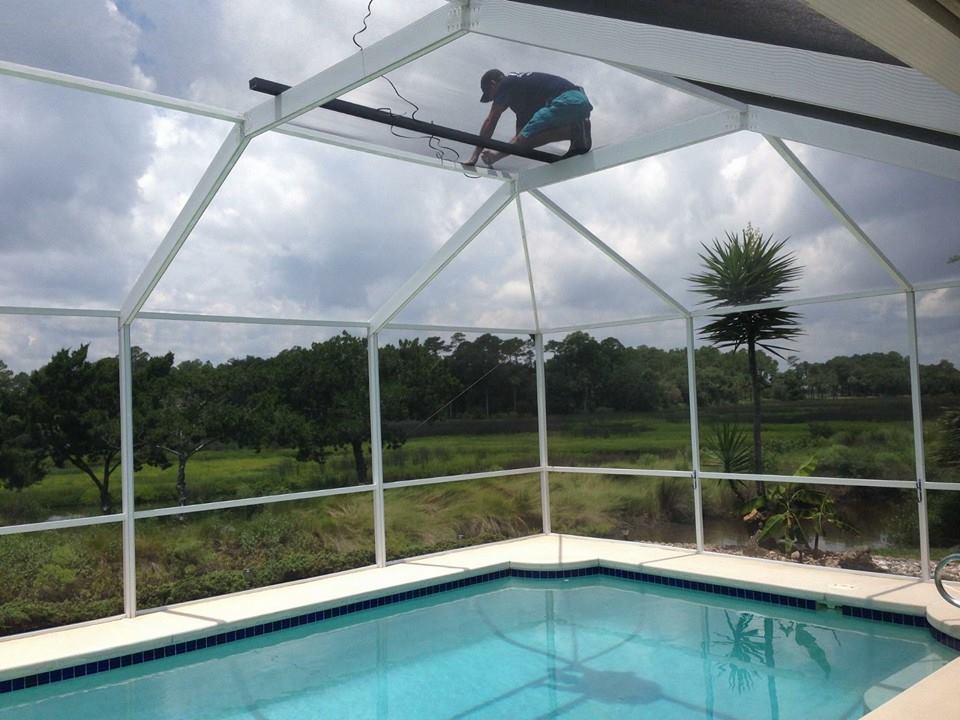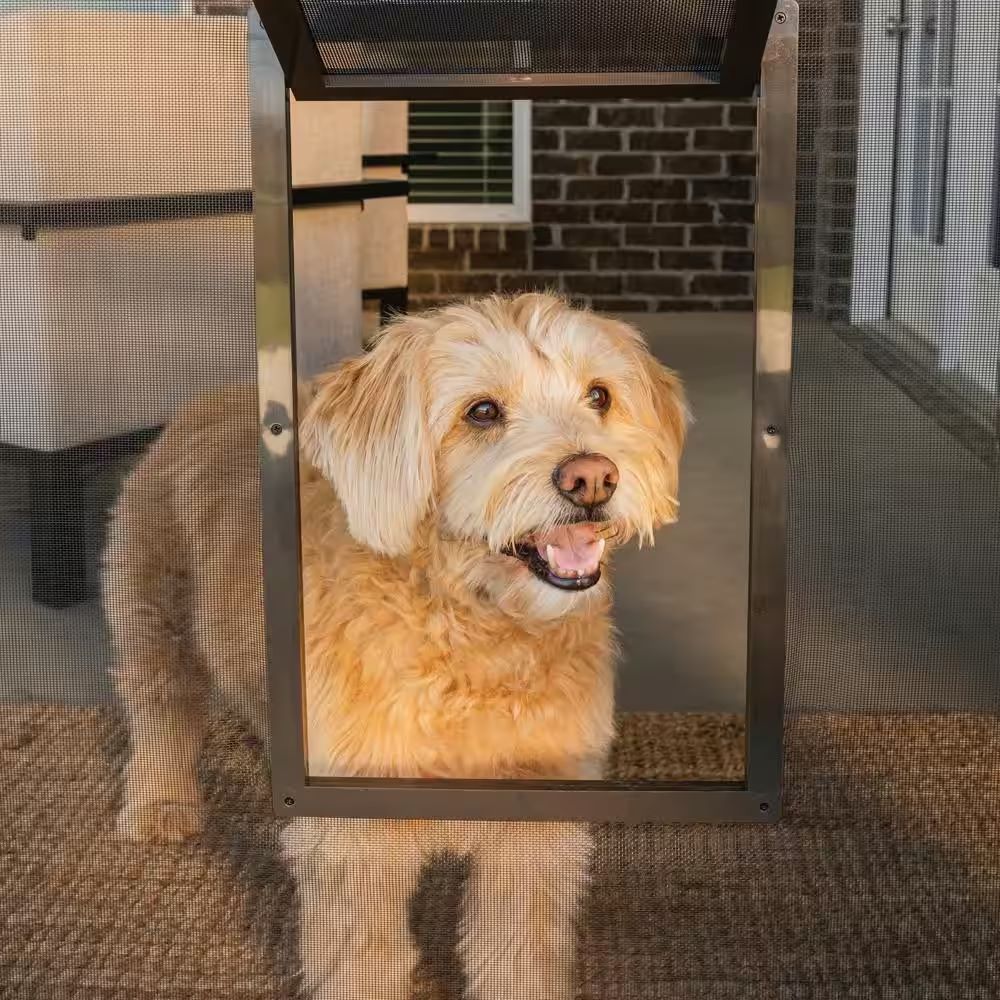 Are your furry friends making their own exit? Let us keep them in with our 100% super strong pet screen. Phifer pet screen is vinyl -coated polyester screen that is tear and puncture resistant to minimize damage from dogs and cats.  Ideal for use in high-traffic areas. PetScreen installs like regular insect screening and is excellent for use in patio/porch enclosures and windows and doors. Add a pet door to your enclosure, let your pet go in and out as they need.
Pet screen is not harmful for pets.
What our clients are saying...
Terry Flaherty
2023-05-17
Screen Enclosure over pool/courtyard. Taylor screens / replacement was the leading positive experience with our new house build. Starting with communication, flexibility with schedules, professionalism and high quality workmanship. Mike & Sonya were great to work with and take pride in their results!
Steve DelMauro
2023-04-17
Mike and Sonya are world class as is the work they performed at my new home to install a pool enclosure roughly 32 x 50. I watched the entire installation. It is so rewarding to see Mike and his amazing crew taking such pride in their work, paying attention to every detail. They are seasoned, experienced contractors, using the finest of materials, and left a jaw dropping product. I offer my strongest and highest recommendation.
I'll change this to a 5 Star if they replace my screens in 4 months as they promise. That is a long time to wait, so I hope they come through.
I highly recommend Taylor Screens for their workmanship, professionalism, and honest timeliness.
Chris and Team great workmanship and customer service!
Taylor' Screen Replacement did a wonderful job. I had them expand the square footage of my lanai and rescreen with no-see-um screening. I look forward to enjoying my lanai and my beautiful view.
Dave Biondella
2020-11-03
Look no further. This company is the real deal. Michael came by and took his time to explain the process to us. He said what he does and does what he said! I highly recommend this company. We got a great job at a fair price. Thank you so much!
Michael Gallen
2020-02-28
Taylor's completed the full replacement of our screen porch this past Monday. They did an excellent job and the new porch looks beautiful. Taylor's were very easy to deal with in giving us a quote and very understanding in scheduling the job to match our complicated personal schedule. During the job itself, the technicians were skilled, courteous, and responsive to all questions we had. The resulting new porch is great. We are exceptionally pleased with Taylor's Screen Replacement and highly recommend them.